Val Samonis (MA, PhD, CPC) has an advanced international education in Engineering, International Management, and Business/Finance, as well as an extensive "hands-on" secular and academic experience spanning different cultures, economic systems, and disciplines.
Born 50 years ago in Poland into a multicultural family with long traditions of active struggle for freedom, Val developed an early interest in technology, social sciences and international affairs. This proved to be quite dangerous in communist Poland. At the age of 16, he was arrested, persecuted by the communist secret police, and expelled from high school for dissident views and anti-communist activities. After the downfall of communism, he was officially recognized as a freedom fighter by The Republic of Poland.
Politically too unreliable to study social sciences, he studied engineering at the Gdansk University of Technology. With the liberalization of the 1970s, he was able to apply to study International Trade and Maritime Engineering at Gdansk University; he continued his International Management/Business education at the Warsaw School of Economics. Later, he worked as a senior researcher at the International Trade Research Institute, Warsaw. During his study and work, he collaborated with many future Solidarity activists and experts who later became noncommunist government ministers, advisors to Lech Walesa, etc.
One of only ten Polish scholars from all disciplines, he was able to get the US Government's Fulbright Scholarship and continued his study and research at Indiana University, University of California, Institute for Chartered Financial Analysts, The Consultants Institute, University of Maryland, and other US and UK institutions.
Completely discouraged by General Jaruzelski's martial law, he decided not to return to Poland, was granted political asylum in the USA, later in Canada, and began his scholarly work at the University of Toronto in 1985.
After the collapse of communism, he was invited to serve as a key expert on several international "blue ribbon" commissions advising on transitions to markets. Subsequent years brought even more intensive "hands-on" involvement in transitions to markets and East-West business as well as more theoretical research in global management, related business, technology, and knowledge management areas. He established an extensive record of research/publications and advisory service to international organizations, governments, business, media, and academia in the fields of International Management, New Frontiers in Technology, Knowledge Engineering & Management, Corporate Governance & Finance, Emerging Markets, East-West Business and Transition Economics, etc.
Val Samonis developed and taught graduate-level courses "Knowledge Engineering & Management for Competing in the Global Economy", "The Public Sector in International Commerce", "Corporate Governance and Finance", "Strategies for Emerging Markets", "International Business Seminar for Visiting Scholars from Ukraine", "Economics of Transition", "Strategies for Policy Reform", "Doing Business with Canada", International Research Seminar Series "Frontiers in East-West Business & Emerging Markets". Also, he supervised researchers and graduate students (EMBA, MBA, PhD, DBA) from many countries, incl. via the Internet as The Web Professor of Global Knowledge Management(SM) at the University of Toronto (Canada), University of Maryland (USA), Touro University International (USA), The Center for European Integration Studies (Germany), The Center for University Studies (USA & Mexico), University of Tasmania (Australia), Rushmore University (USA and globally), The Warsaw School of Economics (Poland), The Baltic Management Institute, Vilnius University and Kaunas University of Technology (Lithuania), and a number of institutions in other countries.
In these and related areas, he established a worldwide network of important contacts (Europe East and West, Asia, Africa, Latin America) as well as worked for and managed international research, knowledge management, and advisory ("blue ribbon") teams sponsored by The African Capacity Building Foundation (global institutions and G-7 countries), The Joint Committee on Corporate Governance (Canada), The European Union, The Hudson Institute, The World Bank, UNCTAD,The Center for Social and Economic Research (CASE), The Canadian International Development Agency, Stanford University, other institutions, and a number of governments.
Val Samonis is one of the two co-founders of the Journal of East-West Business, the only international scholarly journal in the field.
An extensive traveler, Val Samonis is fluent in Russian, Polish, German, Lithuanian, English, and has a reading knowledge of Spanish, French, Esperanto, and other languages. He has US SSN and holds passports of Canada, Poland, Lithuania, and of the Internet (samonis.com), United Nations in one person. He therefore dares to repeat after Socrates that "I am not an Athenian or a Greek but a citizen of the world".

Picture: Microsoft Multimedia Gallery

2003 SEMI
Web Development and Support Webmaster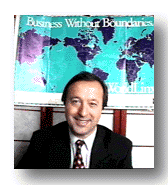 Val Samonis
(MA, PhD, CPC)


Samonis Courses

Research Seminars

Journal of East-West Business (JEWB) published by The Haworth Press, Inc.